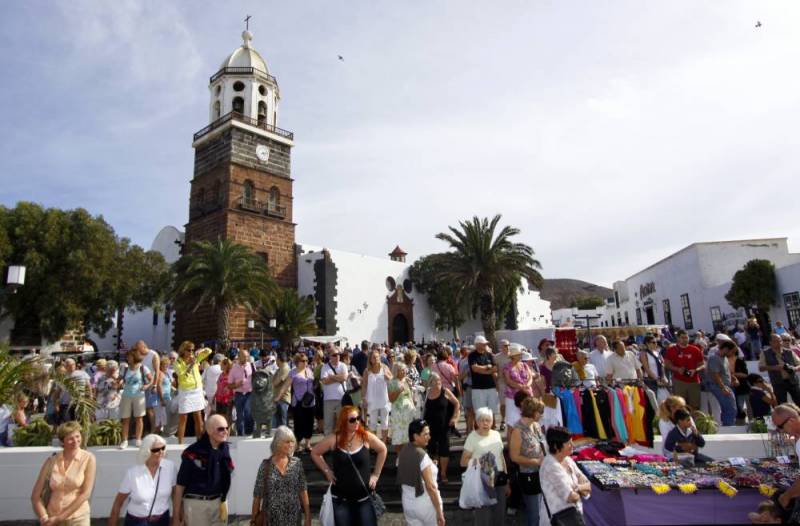 19-07-2017 Discover Lanzarote
Teguise Market & Playa Blanca Market
"Teguise Market"
If you want to enjoy a vibrant market and take advantage of the Sunday morning to go shopping, for that, the "Teguise Market excursion" is ideal. The streets of Teguise offer you all kinds of typical island delicacies, famous goat cheeses, all kinds of Aloe Vera products, prickly pears, island sweets and a long etcetera. Likewise, the craftsmanship is very varied. Teguise, is a town full of life. In the main square,Canarian folklore entertains the market. On Sundays some of the centuries-old houses are turned into museums, bars, restaurants or art galleries with a unique charm. Advice: try the typical products, like Cheese, Wine, Tapas, Churros…., and take part in the dances.
---
"Playa Blanca Market"
If you are in Lanzarote on a Wednesday or Saturday, take the opportunity to discover the south of the island of Lanzarote without having to worry about getting lost. Enjoy on your own or with your friends or family the beautiful landscapes of Lanzarote while you are sitting comfortably in one of our modern buses until your arrival to the little town of "Playa Blanca" in the south of Lanzarote. During the first part of this excursion you have two hours to enjoy the flea market that takes place around the marina "Marina Rubicon" with a variety of stalls offering all kinds of typical products for all tastes. Our second part we´ll take you to the center of Playa Blanca, once a fishermen village. You have got another two hours to enjoy its shopping streets, take a "coffee with milk" and some tapas (snacks) on the beach or go for a swim in it.