Excursie Lanzarote - Timanfaya National Park - La Geria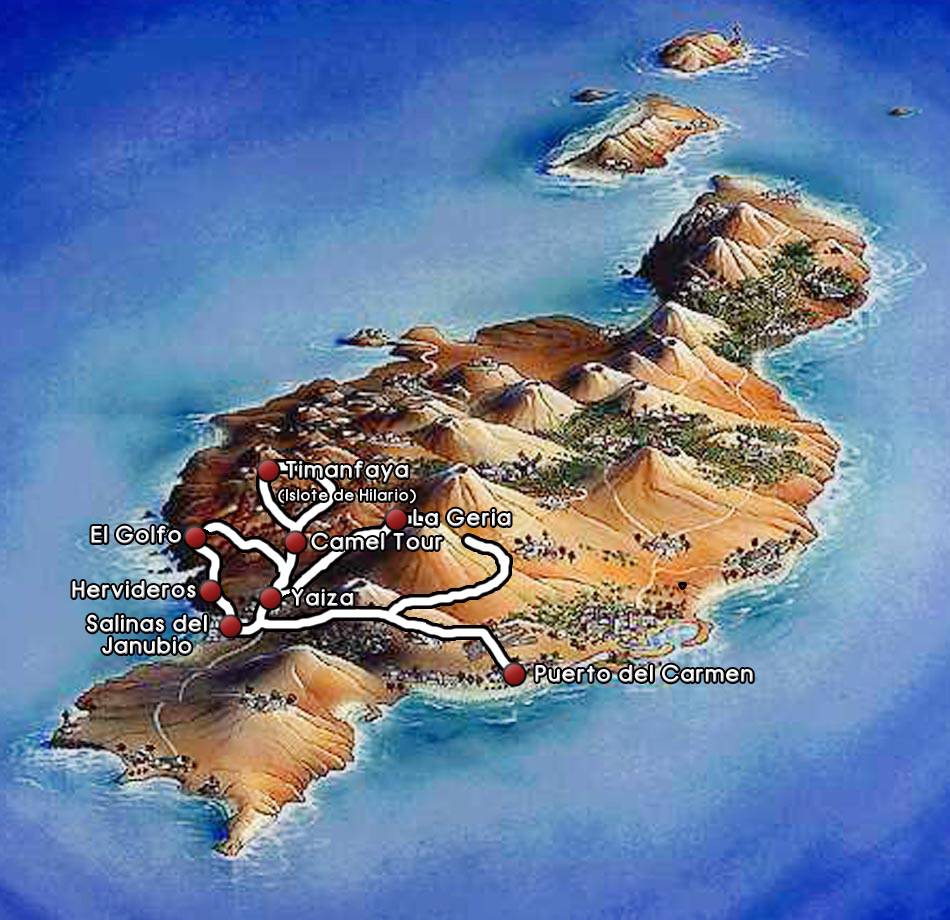 We beginnen onze excursie richting één van de belangrijkste natuur wonderen die het eiland ons aanbied. "Het nationale park van Timanfaya", waar we de hoge temperaturen die onder de grond heersen zelf kunnen zien en voelen in "Islote de Hilario". In het park kan u van een "kamelentocht" genieten die u door het prachtige landschap begeleiden (wel/niet inbegrepen). We maken de indrukwekkende "vulkaanroute" en bezoeken ook de krater, "El Golfo". Na de lunch bezoeken we nog "la Geria", het belangrijkste "wijngebied" op Lanzarote, middenin een indrukwekkende zee van lava. Terugkeer naar het hotel.
Routebeschrijving:
Bezoek aan El Golfo
Mogelijkheid om kameel te rijden (optioneel niet inbegrepen in de prijs -11€ per persoon of 22€ per kameel).
Bezoek aan het Nationaal Park van Timanfaya met de Route van de Vulkanen
Lunch (niet inbegrepen in de prijs van de excursie)
Bezoek aan het wijnbouwgebied van La Geria met wijnproeverij inbegrepen.
Donatella Meloni

A very good value for the money we paid, it was a good experience.
The visit was made by 24-02-2017
Emma

Klasse Urlaubstag. Endlich mal raus aus dem Hotel und weg vom Strand. Besuch im Nationalpark Timanfaya mit Vorführung eines Erdwärmeexperiments kommt richtig gut. Mittagessen gab´s auch und zum Abschluss noch ein Besuch in einer Weinkellerei mit Weinprobe. Lanzarote ist echt schön und mehr als nur Badeurlaub.
The visit was made by 04-04-2017
Claire

Very happy with tour
The visit was made by 04-07-2018
Philip J

Lanzarote South Tour was very interesting and enjoyable. Pick-up was about 20 minutes late and the tour guide tended to speak too quickly and heavily accented, but otherwise it was excellent value and well run.
The visit was made by 28-05-2018
ETSUKO

I enjoyed majestic nature of south lanzarote.
The visit was made by 04-11-2018
OLIVAN

Les paysages sont magnifiques et le prix de l'excursion très compétitif. On perd pas mal de temps à faire le tour des hôtels avant de se mettre en route .
The visit was made by 09-09-2018
Dominica LAMBINON

Très belle excursion. En particulier la route des volcans, impressionnante, et sur une route parfois vertigineuse que maîtrise parfaitement le chauffeur. La guide est très compétente, professionnelle et sympa. Ses explications, à chaque fois en 3 langues, rendent le voyage très instructif. Le timing et l'organisation sont parfaits. Seule l'étape dégustation est un peu moins intéressante. Sinon 10/10 !
The visit was made by 26-01-2019
Geraldine Lynn

We loved your tour . Lunch was super and great value. We liked variety in the tour. Bus driver and guide were professional and courteous.
The visit was made by 17-02-2019
Rita

The tour stopped in all main locations, great guide, funny, pickup was on time, enough time to see all landmarks during a full day trip, lunch stop in a beautiful restaurant, only wish it had stopped in the Salinas as well. The route of the volcanoes is stunning. Great trip to get to know South of Lanzarote!
The visit was made by 22-02-2019
FRANCO SUPERBO

Fantastic tour fantasti guide bravissima Ludmilla
The visit was made by 27-11-2019
Kamila

Great experience! Well worth spent money. Would recommend ☺️
The visit was made by 14-12-2019