Excursie naar Timanfaya, Jameos del Agua en Cueva de los Verdes - Highlight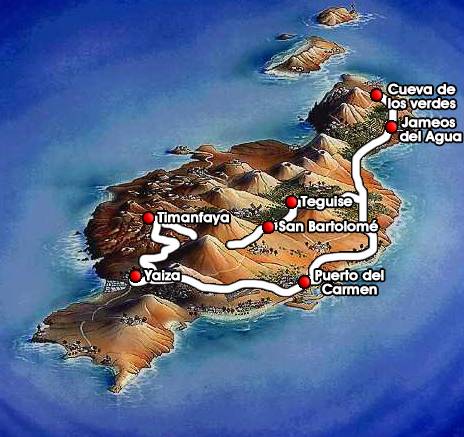 Lanzarote verborgen geheimen! Kom met ons en ervaar de drie meest indrukwekkende attracties op Lanzarote in één tour, we nemen je eerst mee naar The Fire Mountains in Timanfaya, een fascinerend gebied van vulkanen en lava, gevormd tussen 1730 en 1736.We zullen de indrukwekkende geothermische demonstraties en de hitte voelen die nog slechts enkele centimeters onder onze voeten bestaat, Eindelijk doen we de verbluffende Route van de Vulkanen; dit gebied is adembenemend !
Als eerste, van de drie plaatsen in het noorden van Lanzarote, bezoeken we Mirador del Rio. Dit is één van de fraaiste uitzichtspunten van Lanzarote.Het ligt op een hoogte van ongeveeer 480 meter en geeft je een geweldig uitzicht op Chinijo Archipel en La Graciosa, pas rescent beschouwd als een eiland.
We rijden dan verder naar Cueva de los Verdes, een spectaculaire grot waar we een korte afstand zullen lopen in een van de langste lavatunnels ter wereld. Ontdek een van de best verborgen geheimen van Lanzarote. Mysterieuze muziek in combinatie met een unieke verlichting, dit zal je een ervaring voor het leven geven. In de buurt vinden we Jameos del Agua, ook een deel van dit gebied vol met tunnels en grotten gevormd door de uitbarsting van de vulkaan Monte Corona 4000 jaar geleden. Daar ontmoet je de beroemde en Albino krab, die in een kleine natuurlijke vijver in de hoofdtunnel leeft. We zullen er ook de Grand Concert Hall bewonderen in een van de gigantische lava-grotten.
Reisroute (9-10 uur)
Nationaal Park van Timanfaya - vulkanen route
Geothermische demonstraties op Hilario Islet
Stop voor de lunch (lunch niet inbegrepen in de prijs)
Mirador del Río
Grot van de Groenen
Jameos del Agua
Peter S

I would recommend this tour. Expensive, but worth it. Lanzarote is more than a building site. It is an amazing island. The guide was delightful, knowledgable and professional, if a little difficult to understand at times. Although LCT's brochure mentions the lunch is optional, it is not obvious on the actual tour. We paid €7 just for one plate of flavoured rice with three small pieces of sea food. There were no other food outlets available. Hence, just 4 stars.
The visit was made by 13-08-2018
Nina

El tour es de lo mejor que puedes hacer en Lanzarote, si no tienes mucho tiempo y quieres ver lo más espectacular de la isla como fue nuestro caso, es lo que yo recomendaría. La verdad es que lo hemos pasado de maravilla, gracias.
The visit was made by 29-04-2017
Noemí

Me gustó mucho la experiencia y sobre todo descubrir el secreto en la Cueva de los verdes; una experiencia 100% recomendable
The visit was made by 30-07-2018